(Pictured: Bayete´ Ross Smith)
Student debt load has tripled since 2006 and eclipsed both credit cards and auto loans as the largest source of household debt outside mortgages (source: New York Times.)

Student loan cancellation has been making headlines for months, but what does student loan debt look like in real life? Photographer Brittany M. Powell shows us in her new book, THE DEBT PROJECT.


---

To help understand how people come to be in debt, Brittany M. Powell shares the paths that led her subjects into financial hardships through personal stories and intimate images in THE DEBT PROJECT.
Here are just a few examples that share how the burden of student loans lures and affects debtors — who are encouraged by society to take on debt to look and play the part of success — and then are shamed because of that debt.


Taylor Nairn: Surveyor and Data Manager for a long-term shoreline monitoring project. $59,636.27. Student loans and being naive about finances. Also the fact that we live in a culture that values debt and money more than education and the next generation.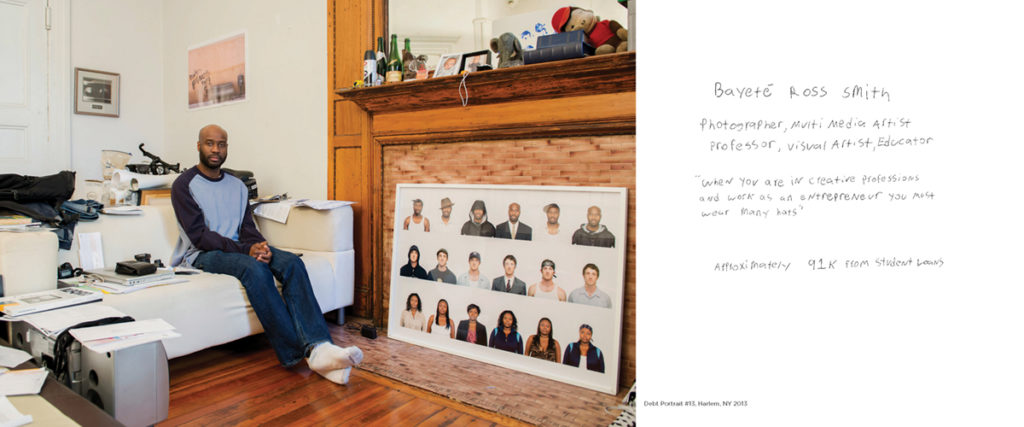 Bayete´Ross Smith, photographer, multi media artist, professor, visual artist, educator. When you are in creative professions and work as an entrepreneur you must wear many hats. Approximately 91k from student loans.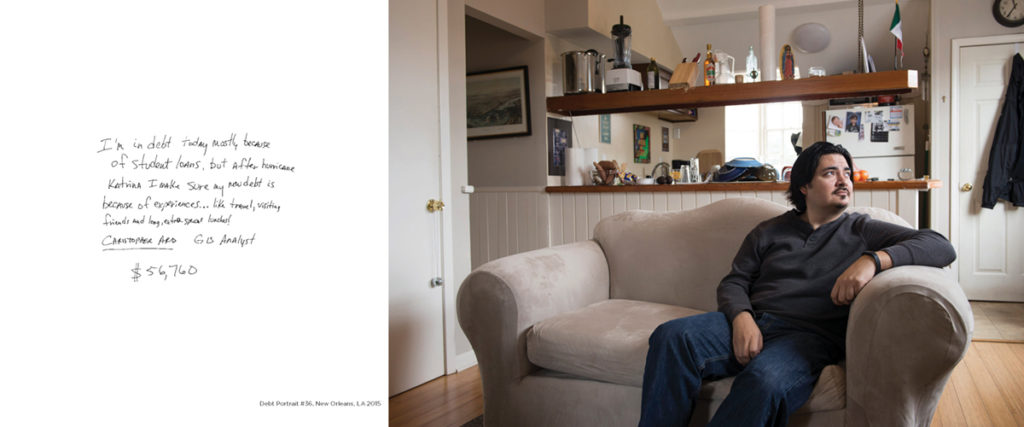 I'm in debt today mostly because of student loans, but after hurricane Katrina, I make sure my new debt is because of my experiences… like travel, visiting friends and long, extra special lunches! Christopher Ard, GIS Analyst. $56,760.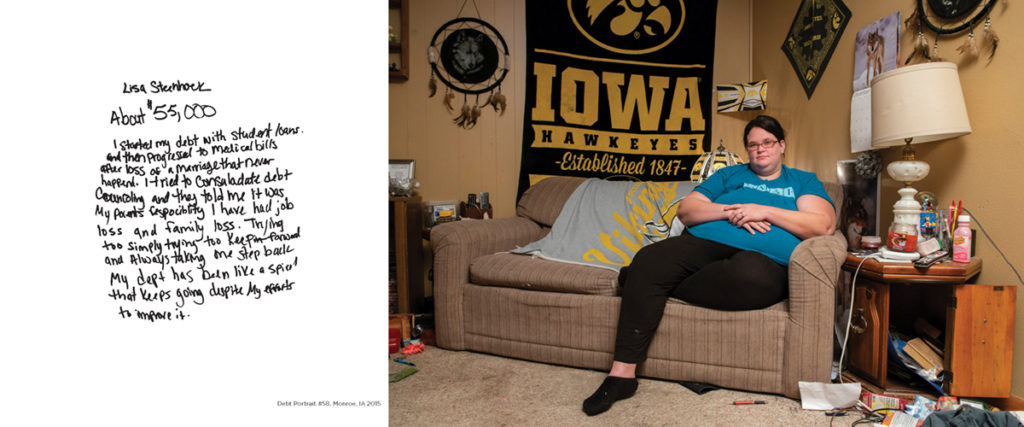 Lisa Steenhoek. About $55,000. I started my debt with student loans. and then progressed to medical bills after loss of a marriage that never happened. I tried to consolidate debt counseling and they told me it was my parents responsibility. I have had job loss and family loss. Trying too simply trying too keep in forward and always taking one step back. My debt has been like a spiral that keeps going despite my efforts to improve it.


---
LEARN MORE
See all the sides of debt — not just student debt — as profiled in The Debt Project. This large format art/gift book makes an excellent choice for readers who are interested in socio-economics, humanitarianism, diversity and inclusivity.

LISTEN in on a provocative conversation on Debt in America with:
Brittany Powell, Author of @TheDebtProject
Bayete´ Ross Smith, Artist, Presidential Leadership Scholar, TED resident and subject in The Debt Project
Alissa Quart, Author of Squeezed: Why Our Families Can't Afford America, and Executive Director @EconomicHardship Reporting Project
Hosted by Third Place Books in Seattle.
HERE the panel discusses how debt affects us and what the future holds and provides a new perspective on this pervasive hardship facing Americans today.

SEE an excerpt in The New Yorker.

READ more about the author and book in this blog Taking a Look at Debt in America with Photographer Brittany Powell.

Follow us @WestMarginPress to learn more about our books and authors.
"New ways of seeing art with an eye toward diversity and inclusivity are among this season's themes . . . Based on the online photo series that Powell began after she filed for bankruptcy for her photography business, this book brings together portraits taken in each subject's home, surrounded by all their belongings, how much they owe, and the story behind the numbers."

–Publishers Weekly
"A moving, humanitarian exposé on the isolation and despair of financial hardship."

–Kirkus Reviews
"Inspiration behind these dramatic images will give you chills."

–Woman's Day